'Inspirational' Cardiff lawyer Simon Mumford dies aged 59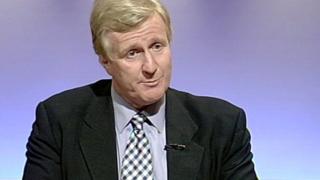 A former "inspirational" president of Cardiff Law Society has died from cancer.
Retired solicitor Simon Mumford, 59, from Narberth, Pembrokeshire, was also the society's honorary secretary from 1987-97.
In tribute, the society's Michael Walters said: "It is an understatement to say his presence in the courts will be sadly missed by all that knew him."
He added Mr Mumford fought for legal aid and "access for justice".
A wave of tributes were paid to Mr Mumford after his death was announced on Twitter on Thursday.
Head of Litigation at Hugh James Mark Harvey said Mr Mumford "leaves a large gap having made an indelible mark on all who knew him".
Cardiff University law lecturer David Dixon also paid tribute to the lawyer and said: "Simon Mumford was a solicitor, teacher, soldier, advocate, broadcaster, sportsman, funny writer, friend, role model enthusiast and inspiration."