World War One: Behind the names on Grangetown memorial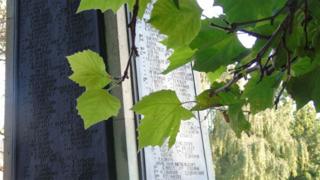 Memorials remembering those who died in World War One are in villages, towns and cities across the land. In the Cardiff suburb of Grangetown, 330 men are honoured.
Listed in rows, the names are a stark reminder of the loss felt 100 years ago.
But who were the people listed on the memorial, and what happened to the 130 others whose names were omitted?
Steve Duffy has researched some of the stories of the people behind the names.
The first Cardiff man to die in the war was Royal Navy stoker William Welton, 19, from Somerset Street in Grangetown.
His cruiser, HMS Amphion, was hit in the North Sea by a floating mine while mine clearing on 6 August 1914 and 150 men, including another Welshman from Pembrokeshire, perished.
William, who had joined the Navy in 1912 after being a cleaner on steam locomotives, had been due to be transferred to another ship later that month.
But despite him being one of Wales' first casualties, there was very little recorded at the time and his name does not appear on the Grangetown memorial.
He is among the 130 men and one woman with local connections whose names are missing from the 1921 memorial - there is no one explanation as to why. Some families moved away or widows remarried, while in the confusion of the time others were accidentally forgotten.
One of those on the memorial, was miner George Herbert Rees was born in Redlaver Street in Grangetown.
He had survived an explosion at Senghenydd's Universal colliery which had killed 439 miners on 14 October 1913.
But exactly one year later to the day, Rifleman Rees, 32, died of wounds while serving in France with the Rifle Brigade 3rd Battalion.
Another name which appears is that of Private Henry James, 22, who was one of 398 men who perished on board a troop ship on its way to Salonika in Greece.
It was torpedoed by a German U-boat in May 1917.
He had joined up within a month of war being declared and had only recently returned to his regiment after being injured.
He was one of seven children living in Bromsgrove Street and worked as a printer's assistant before the war.
Dai Westacott worked at the docks but was also a gifted rugby player who had played for Cardiff rugby club over seven seasons and won a cap for Wales in Ireland in 1906.
He fought in some significant battles, was injured in the Somme in 1916 before he was killed by shellfire in a trench at Ypres.
He had left behind a widow Clara and four children in Hewell Street.
His story is also re-told in a book chronicling 13 Welsh rugby internationals who died in World War One.
His name also appears on the memorial.
But a happier tale emerges from the 330 names on the memorial.
Sgt Alf Norman, a Boer War veteran was a Grangetown postman serving with the Glamorgan Yeomanry.
His Cork-born wife received two telegrams informing her of his death.
She held a wake for him attended by family and friends.
Then came the news he was in fact alive.
And family folklore has it that on hearing the news Mrs Norman said: "I've never been able to rely on him for anything."
His name somehow still ended up on the memorial, and he took visitors to see his name immortalised until he died peacefully at the age of 81. He'd happily also survived the Blitz after his house was bombed in 1941.