'Unacceptable delays' in cancer patient's care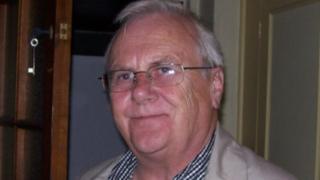 A cancer patient experienced "unacceptable delays" with "no sense of urgency" shown to his condition, a watchdog has ruled.
The public services ombudsman for Wales said that there was a 'lack of leadership' in Robert Harcombe's care.
He had to wait for nearly three months for an endoscopy despite an urgent referral from his GP.
He died in March 2013, and the Aneurin Bevan University Health Board says it accepts the watchdog's findings.
Mr Harcombe, 67, was referred for an endoscopy at the Royal Gwent Hospital in September 2012.
His GP said his case was an urgent suspected cancer referral.
But that red-flag referral was later downgraded - without Mr Harcombe being seen by another medical professional. Mr Harcombe, his family and his GP were not told about the change.
'Suicide note'
His daughter Kirstie Moons said that the confusion and uncertainty caused unnecessary psychological suffering.
"Since my father's death, we found a letter that he had written, basically a suicide note," she said.
"He was at such an awful point and feeling so horrific that he'd written us a suicide note, luckily he didn't do it.
"We were all aware of the state he was in and the depression and distress that he was in from simply not knowing."
The acting public services ombudsman for Wales, Prof Margaret Griffiths, upheld all the complaints made by Mrs Moons.
"This must have been extremely traumatic," said Prof Griffiths.
'Unable to speak'
"This was going on for a period of several months and he was getting confusing messages in terms of what appointments he had with particular consultants."
The watchdog said throat surgery could have been avoided if the delays had not happened.
Mr Harcombe's daughter added: "He spent his final months unable to speak, unable to swallow and with a tracheostomy to breathe."
A spokesperson for Aneurin Bevan University Health Board said: "We fully accept the findings and recommendations in the report issued by the Public Services Ombudsman for Wales and acknowledge that the complaints made against Aneurin Bevan University Health Board have been upheld.
"We will be making a full and sincere apology to the complainant and our thoughts are with her today on the publication of this report.
"An action plan has been drawn up to address eight recommendations identified in the report."