GP appointments systems review urged in Cardiff and Vale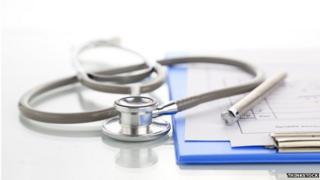 The way GP surgeries operate appointments needs 'urgent review' across parts of south Wales, says a community health council (CHC).
Cardiff and Vale University Health Board has now been asked by its CHC watchdog to examine all its GP practices.
Patients say they are struggling to make surgery bookings - instead turning to A&E or out-of-hours services.
The health board has been requested to complete a review by March 2015.
The chief officer of the Cardiff and Vale of Glamorgan community health council, Stephen Allen said: "Although a large number of respondents were satisfied with the general service they receive from their GP practice, one key issue was the ability to access their practice in the first place, whether it be by phone or in person.
Booked-up
"A large number of patients report issues about getting through to the practice in the morning and then finding that there are no appointments available when they do get through.
"These patients are routinely asked to call back the next day and the same thing occurs."
Most patients were resorting to going to A&E or contacting the out-of-hours service rather than waiting four to five days for an emergency appointment, he claimed.
Mr Allen added: "This is based upon over 8,000 responses to our patient satisfaction surveys, with the largest area of concern, based on the comments provided by patients, being access to appointments and/or telephone services."
The CHC, which has a statutory role to oversee the work of its local health board, says it wants the review to examine the different types of appointment and telephone systems in use across Cardiff and the Vale of Glamorgan, as well as telephone triage arrangements and online booking systems.
'Understandable frustration'
It said the review should be completed by the end of March next year, with bi-monthly updates on its progress until it reports.
A spokesperson for Cardiff and Vale University Health Board said: "We are pleased to see so many very positive responses within the survey.
"But it is also clear that while people can see their GP when they urgently need to, there is an understandable frustration in some areas where routine appointments can take some time.
"We welcome the community health council acknowledging the improvements that have been made during this period.
"The health board has identified improving access as one of our main priority areas and we will continue to work with the CHC and our GP partners to make sure that those examples of best practice become the standard in all surgeries across Cardiff and Vale."