New Trevethin police and shopping centre opens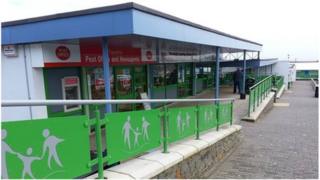 A new police office, shops and business centre is opening at Trevethin in Torfaen following a £1.6m investment in a social enterprise development.
The complex includes a community cafe and units for local companies to rent.
Work on the centre began last year and is part of a £10m four-year project to improve Trevethin, Garndiffaith and Pontypool.
Gwent Police officers will be able to use the office between 08.00 and midnight each day.
Police and Crime Commissioner Ian Johnston and Torfaen AM Lynne Neagle are officially opening the development on Friday.