Cardiff's new A&E unit opens at University Hospital of Wales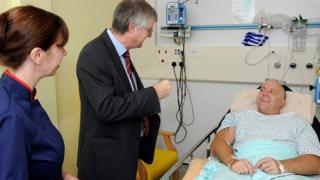 A new-look £4.4m emergency unit at Cardiff's University Hospital of Wales will lead to improved care, says Health Minister Mark Drakeford.
New waiting areas have been built as part of the refurbishment which includes a dedicated paediatric resuscitation bay.
Most of the funding came from the Welsh government but some furnishings were provided by charitable contributions.
Work on the unit began in April last year and caused some disruptions.
More than 135,000 people are treated at the emergency unit each year. Facilities in the revamped department include:
A seven-trolley bay rapid assessment area
10 assessment trolley bays for the most seriously injured or sick patients
Six adult resuscitation bays
A dedicated paediatric resuscitation bay
A minor injuries unit
During the visit, the minister confirmed that he has also agreed £123,000 of additional funding for medical equipment for the new unit.
"I am confident this new unit will help to meet and deliver improved services and care to the public and provide a safer and more practical working environment for staff," said Mr Drakeford.
Adam Cairns, chief executive of Cardiff and Vale University Health Board, thanked staff for their dedication during the "really challenging project".