Masked gang jailed for family attack at wrong house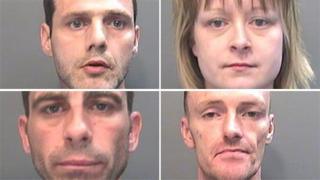 An innocent family were beaten and stabbed in their own home in a scene from a "horror film" after a masked gang targeted the wrong house.
Merthyr Tydfil Crown Court heard Mark Peacock, 39, Shakira Hellings, 29, Christopher Edwards, 38, and Stanley Butler, 40, had thought the home in Penygraig, Rhondda Cynon Taf, belonged to a drug dealer.
Two family members were stabbed in the "nightmare" attack.
The gang were jailed for 38 years.
They admitted four counts of wounding with intent to cause grievous bodily harm and aggravated burglary.
Prosecutor Rachel Knight said: "They got the wrong house. It was as simple as that.
"It was clear they were targeting this property because they thought he was a drug dealer."
The family were woken by the sound of their front door being forced before the gang started screaming for money and stabbed a teenage boy twice in his leg.
'Everyone's nightmare'
His older sister confronted them and was hit with a crowbar before being repeatedly punched to the face.
Their mother was stabbed and the father was hit over the head with the crowbar before his wife picked up one of the weapons and chased the gang out of the house.
The attack, which was described as "a scene from a horror film", was witnessed by the family's 13-year-old daughter who raised the alarm.
Judge Richard Twomlow said: "It is hard to imagine a case which could be very much worse than this.
"This was an utterly appalling and frightening incident involving serious violence on a wholly innocent family in their own home.
"It has been suggested that it is everyone's nightmare. It is clearly true."
The court heard how the family have been left anxious and nervous, obsessed and so paranoid that they are thinking of moving house.