Cardiff newlyweds donate £1,200 after doctor helps groom walk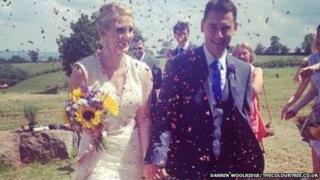 A newlywed couple donated £1,200 to a charity set up by a Swansea surgeon after his operations on the groom allowed him to walk down the aisle.
Cardiff couple Tom and Tamsyn Webster asked their wedding guests to donate money to the Swansea Vietnam Fund.
The fund was set up by Morriston Hospital neurosurgeon Bob Redfern who travels to Vietnam to share his knowledge and provide equipment.
Mr Webster suffered from degenerative disc disease in his lumbar spine.
'Excruciating pain'
Without these operations, Mr Webster, 30, would not be able to walk and so the couple wanted to do something to thank Mr Redfern.
In total, their wedding guests donated £1,225.25, in lieu of gifts.
Mr Webster, whose father-in-law is former Swansea NHS Trust medical director John Calvert, had four operations in the past seven years with Mr Redfern carrying out the first three at Morriston Hospital.
"Without the surgery I would not have been able to walk," said Mr Webster. "I would have been in excruciating pain 24/7 with no relief whatsoever."
Mr Redfern first visited Da Nang Hospital in Vietnam six years ago on behalf of the US-based Foundation for International Education in Neurological Surgery (FIENS).
This year, the fund part-sponsored Morriston Hospital medical student Mark Bevan to visit Da Nang.
Mr Redfern said: "Thanks to the very generous donation from Tom, Tamsyn and their wedding guests, I hope to support other students travelling out over the next two to three years."
Mr Webster added: "We made the donation to the Swansea Vietnam Fund because we know how important it is to Bob.
"By doing this, we hope to help people with similar or worse conditions to mine who don't have access to or cannot afford the care we have available in the UK."