Corey Davies: Jail for crash deaths of sister and fiance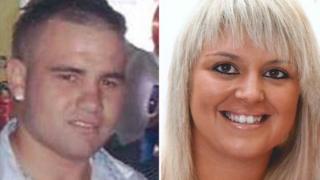 A driver who killed his sister and her fiance in a car crash, leaving his nine-week-old nephew an orphan, has been jailed for seven years.
Corey Davies, 20, of Porth, Rhondda, had been drinking "all night" and had cocaine in his system when he hit a bank on the A4093, flipping his BMW.
Raquel Davies, 23, and Lee Jenkins, 25, died instantly when the soft-top overturned on 7 June.
Davies, who fled the scene, admitted two death by dangerous driving charges.
Cardiff Crown Court heard Davies was "extremely drunk" when he offered to take the couple on an early morning shopping trip in Tonyrefail.
Prosecutor David Wooler said: "Davies was under the influence of drink and cocaine when the accident happened after an all-night drinking session to celebrate Raquel's 23rd birthday."
Witnesses saw Davies overtaking a line of traffic at up to 60mph with his car "twitching and snaking" on the A-road's wet surface.
As he sped past a Ford Transit van, the car hit banking at the side of the road and flipped onto its side, over a gate and into a field.
The pair died instantly in the crash because the car's soft-top gave them no protection when it overturned - but Davies fled the scene.
Mr Wooler said: "Davies got out of the car and was moaning and groaning 'my sister, my sister'.
"He flagged down a passing car, being driven by a friend, who thought Davies had been assaulted and took him to his mother's house."
The court heard heard Davies - who had broken his ribs and bruised his kidneys in the crash - took himself to hospital.
Police took blood tests from him, several hours after the fatal smash, and it was calculated that he had been twice the legal limit at the time.
At the beginning of the hearing Davies, who has a previous drink-drive conviction, told the court full of relatives: "I'm sorry to both families. If I could change anything I would have."
He wept uncontrollably throughout the 40-minute hearing during which he appeared by video-link from Cardiff prison and John Hipkin, defending, said: "No apology can put matters right."
Judge Eleri Rees told him: "No doubt the guilt will always be with you and will be a heavy punishment to bear.
"But you will have the opportunity to rebuild your life at the end of the sentence."
Baby Harley, who was not in the car at the time, is now being cared for by his paternal grandmother Anne.
In a victim impact statement she told the court: "My life with never be the same".
Davies' family say they have "lost a son and a daughter" while Mr Jenkins' family said they were "heartbroken".
South Wales Police said the smash served as a warning to other young drivers not to get behind the wheel after drinking.
Inspector Carwyn Evans said after the case: "This was a tragic case and Corey Davies will spend a considerable amount of time in prison. This sentence should be a warning to other drivers.
"Any driver who gets behind the wheel of a vehicle under the influence of drink or drugs and driving in the manner he did is putting their own life, the lives of other road users, and as we have seen here, the lives of loved ones in grave danger."