Ostrich fugitive Martin Evans held in South Africa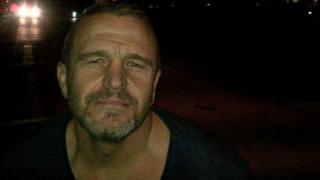 A fugitive drug dealing conman from Swansea faces extradition after being arrested in South Africa following three years on the run.
Martin Evans, 52, who conned ostrich farm investors in south Wales out of £900,000, was held by armed police in Johannesburg on Saturday.
In 2006, Evans, who used many aliases to evade police, was jailed for 21 years for conspiracy to supply cocaine and fraudulent trading.
He was remanded in custody for a week.
The former Young Businessman of the Year for Wales, from Pontardulais, was named by police as one of the UK's "most wanted" in 2012 who said they suspected he was living a life of luxury in northern Cyprus.
Evans appeared at Randburg Magistrates' Court on Monday and was remanded in custody until 11 August when extradition proceedings are due to be heard.
A spokesman for the National Crime Agency (NCA) said Evans was sought as part of Operation Zygos, which was set up to track Britain's 12 most wanted people.
He said: "We knew he had moved to South Africa. We were tracking him down."
Evans disappeared in August 2011 after failing to return from a weekend release from prison in Wiltshire.
He was arrested on Saturday night after an operation involving the NCA and Interpol, and intelligence-led surveillance operations were handled by South African Police.
Evans was tracked down to the housing complex where officers swooped as he was getting out of his car.
Branch commander of the National Crime Agency in Wales Simon Flowers admitted it was difficult to track Evans down.
Tracked down
"It's taken some time, that's for sure, over the last three years. Initially through intelligence and a lot of good police work here in Wales and my team were able to track him to Cyprus," he said.
Mr Flowers the time and money spent recapturing Evans was "absolutely" worth it.
"We certainly have the resources and the capability to do this and this is an individual who has affected individuals in Wales, he's affected communities so absolutely, no effort is too much," he added.
Evans had also been known as Martin Roydon Evans, Martin Wayne Evans, Anthony Hall and Paul Kelly and had also been on the run prior to 2006.
He had been hiding in Holland and Spain, where he masterminded a drugs and money laundering operation, shipping at least £3m of ecstasy and cocaine into Britain.
Evans began his criminal career in the mid 1990s after his double-glazing firm in Port Talbot failed.
It was then he set up the ostrich-breeding business, which promised profits of 70% a year.
But he swindled nearly £1m out of investors.
He jumped bail on the day his trial was due to start in Swansea in March 2000 but he was caught in November 2001 while trying to enter the US with a false passport.
At his 2006 trial at Swansea Crown Court, he was sentenced to 21 years.