Cardiff council's leisure centre snacks 'unhealthy'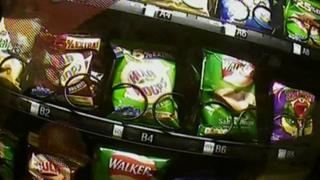 Council-run leisure centres in Cardiff are selling overwhelmingly unhealthy snacks against Welsh government guidance, a BBC Wales investigation has found.
Only one of 406 food vending machine slots in its nine centres sold snacks judged as "healthier" under the advice.
BBC Wales' X-Ray programme also found 91% of drinks sold in vending machines contained high or medium sugar levels.
Cardiff council said it worked to offer a broad range of food and drink.
The Guidance on Healthier Food and Drink in Leisure Centres report issued by the Welsh government in 2012 said leisure centres had an important role in promoting healthy eating.
It also gave detailed information on how councils could achieve that.
But X-Ray's research found leisure users in Cardiff - Wales' biggest local authority with the highest population - were being offered mainly high-sugar, high-fat drinks and snacks, particularly in vending machines.
Free water was available, as recommended by the guidance but, contrary to the advice, three centres sent X-ray's reporters to get it from taps in the toilets while a fourth directed them to a first aid cupboard.
Chris Cashin, chairwoman of Sports Dietitians UK, said aside from elite athletes most people require only water after exercise, not food.
She added: "It's quite shocking really that institutions like leisure centres who promote a healthy lifestyle are selling those kinds of things, so I think the onus now is on the leisure centres to actually change a lot of the things they're selling."
Cardiff council said it had to balance promoting healthy living with making enough money to keep facilities open.
It said it was confident the food and drink it sells reflects what is offered in other leisure centres.
It added it had offered more healthy options in past years but customers had clearly shown they did not want them.
The X-Ray Health Special, which launches the BBC Wales Live Longer season, can be seen at 19:00 BST on Monday, 4 August on BBC One Wales.