Abandoned kittens found in suitcase in Cardiff footpath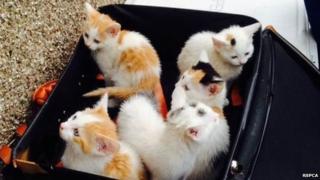 Five nine-week-old kittens were found abandoned in a suitcase - with one stuck in the zip.
The three male and two female kittens, whose fur was dirty and flea-ridden, were discovered on a footpath in Grangetown, Cardiff.
One of the kittens had a sore right eye, but they were otherwise in a healthy condition.
The litter is now being looked after by the RSPCA who will rehome them if their owners do not come forward.
RSPCA animal collection officer Rachel Chapman said: "It is just so sad that someone has just left them.
"We would rather the person called us first instead of just being irresponsible and abandoning their pets."