Cannabis drug factory found in disused Whitchurch Hospital ward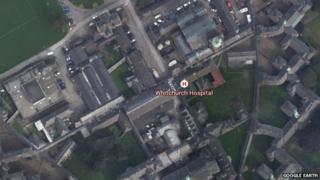 A cannabis factory has been discovered in the grounds of a psychiatric hospital, police have confirmed.
Officers unexpectedly found 30 plants in a disused ward in Whitchurch Hospital, Cardiff, while searching for a missing person.
It is believed the gang responsible had also hooked up powerful growing lights and ventilators to the hospital's electricity supply.
The hidden factory was uncovered on 30 June.
A police spokesman said: "South Wales Police can confirm a cannabis factory of around 30 plants was discovered within the grounds of Whitchurch Hospital in Cardiff."
Officers had been looking for a missing person two months ago when they entered a boarded-up ward in the hospital's main building and found the drugs.
It is believed security guards make regular patrols, but did not enter any of the disused buildings on the site.
'Highly unusual'
Cardiff and Vale University Health Board, which runs the hospital site, said it was cooperating with the investigation.
Abigail Harris, the health board's director of planning, said: "We would like to reassure the public the health board's security teams carry out regular patrols of all our sites.
"This has happened in a small corner of a big hospital in an area that was sealed and unused for many, many years. It is a highly unusual and isolated case which is being carefully reviewed with police.
"The health board is doing all we can to support the investigation and find those responsible.
"We would encourage anyone with information about this incident to contact the police."