Mouth painter Rosie Moriarty-Simmonds hosts solo show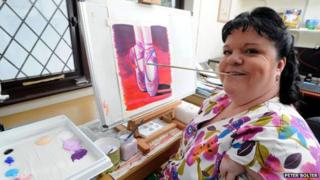 Embarking on your first solo art exhibition after less than two years of painting is a daunting task for anyone.
But for Rosie Moriarty-Simmonds from Cardiff who paints using her mouth, it's a particular challenge.
Born with no legs and just four fingers protruding from her shoulders, she is one of the 10,000 people affected when their mothers were prescribed Thalidomide to combat morning sickness.
A successful businesswoman, author and mother, Rosie says she took up mouth-painting as "something a bit more sedate and calming for someone who's getting on a bit now".
Rosie's work was featured in the Mouth & Foot Painting Artists Association's exhibition at Cardiff's Norwegian Church earlier this year.
After it attracted 1,100 visitors in a week she was inspired to stage her own show.
Basic technique
But while this kind of painting is a relatively new departure for Rosie, she explained that the skills required were actually quite familiar.
"All my life I've learnt to do things with my mouth which other people do with their hands; I even used to carry around my son like that when he was a baby.
"Nowadays I use dictation software on the computer, but before that I wrote with a pen in my teeth, so even though I hadn't drawn or painted anything since school, the basic technique was relatively simple to pick up.
"The hardest part was strengthening my neck muscles to be able to carry out repeated brush-strokes and dip back and fore between the easel, paints and water."
She describes her style as a bit "Picasso-ish" with abstract subjects depicted in bright, bold colours.
But with Cardiff gallery space at a costly premium and Rosie decided to hold her exhibition at home.
"That's the most scary part to be honest with you - not only having your work on display for people to comment-on, but doing it at home
"My studio's pretty crowded with two people in there, so we'll be having to put paintings up in the garage, but if we make some funds for Cry then it'll all be worth the stress.
"The son of a family friend, Owen Morris, was just 13 years old when he died last September, following his collapse while training with Llanishen RFC's U14 squad, so even if I can raise a few pounds to help prevent the same thing happening to anyone else I'll be happy."
More details on the exhibition which runs from 16-17 August can be found on Rosie's website.