Sex with police officer was 'flattering', court told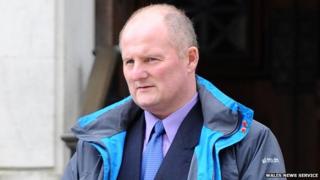 A woman prisoner who says she had sex with a police officer in a custody suite told Cardiff Crown Court she was "flattered" by the attention.
The woman told how the encounter with Sgt Richard Evans happened after she asked him for a drink of water.
Mr Evans, 46, of Pontypool, is also accused of sexually assaulting two other women being held in cells at Ystrad Mynach police station.
He denies misconduct in a public office and three charges of sexual assault.
The court heard the woman was in custody following her arrest while drunk in May 2006.
She said she was "extremely" thirsty the next morning and asked Mr Evans for water.
He allegedly took her into the sluice room, a wash room where officers dispose of toilet waste, before shutting the door and having sex with her.
'Five-minute fumble'
The woman, who is not named for legal reasons, said: "I just let it happen, I wanted it to happen. It was flattering - you've got a man in uniform and he fancies you.
"I felt a bit cocky - not everyone can say they've had an affair with a policeman.
"It wasn't promises and chocolates, it was just a five-minute fumble," she said.
The court heard the woman first met Mr Evans in 2003 when he gave her a lift home.
She claimed he took her into the back of the police van before kissing her and touching her breast.
But she did not report either incident and they only came to light when Mr Evans was investigated for the alleged sexual assault of two other women.
Mr Evans is also accused of touching another woman's breasts and kissing her while she was in custody.
He also allegedly watched another woman getting changed before pulling off a blanket she had wrapped around her.
The trial continues.