Minibus driver jailed for five years for cyclist's death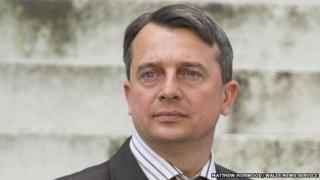 A minibus driver has been jailed for five years for killing a cyclist, whom he hit while looking at photographs on his mobile phone.
Cyclist Owain Richard James, 30, was killed after being hit by Andrzej Wojcicki, 45, who had been viewing pictures of vintage sports cars.
Cardiff Crown Court heard Wojcicki, of Blackwood, was "distracted" as he drove at 50 mph on the A472 near Newbridge.
He was found guilty of causing death by dangerous driving.
Judge David Wyn Morgan told him: "Mr James didn't stand a chance."
During the trial, the jury heard how Wojcicki been driving back from a Jehovah's Witnesses conference in a large minibus with his wife and children.
The court was told he had been taking and viewing pictures on his mobile phone as he drove the two-and-a-half tonne bus along the south Wales road.
He hit Mr James, who was thrown into the air by the impact and hit the bonnet and windscreen before falling into the road.
During the trial, Wojcicki denied using his mobile phone while driving and his defence counsel told the court there was no evidence he had been using his phone at the time of the collision or beforehand.
Lord Harley, representing Mr Wojcicki, told the court he was a "diligent driver" and said Mr James had swerved in front of the minibus and did not give the defendant the chance to brake.
"For him to come into the path of my client took less than a second. It was all over in a second," he added.
But Nicholas Jones, prosecuting, said: "The driver never saw the cyclist because he was distracted until after he collided with him.
"Because Wojcicki was driving dangerously, he caused the death of Mr James. It is as simple as that.
"You do not take pictures while you are driving along and then look at them."
The jury took seven hours to find him guilty of causing death by dangerous driving.
Judge David Wyn Morgan told him: "You were paying little if any attention to the road in front of you.
"The visibility was excellent and the traffic was minimal - if you had been looking you couldn't have failed to be aware of the cyclist.
"The distraction which caused this was your use of the mobile telephone for taking pictures of cars.
"The use of a mobile telephone to examine images while driving is every bit as dangerous as texting.
"You were driving a three-tonne minibus - Mr James didn't stand a chance."
Wojcicki was also banned from driving for 10 years.