Metro plans for single ticket rapid transit network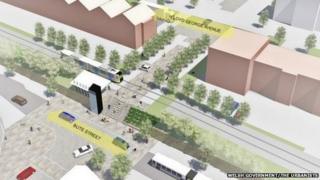 The next phase in plans for a major overhaul of public transport in south east Wales reveals a vision for a rapid one-ticket system for travellers.
An update on the Cardiff Capital Region Metro project shows aspirations to serve the furthest corners of the region with over four services an hour.
It wants passengers to be able buy a single ticket and go anywhere on the "multi-modal rapid transit network".
Ministers say the plans will boost the region's economic prospects.
The Welsh government report says: "Ease of travel through integrating modes, timetables and ticketing is a key feature of effective public transport systems, providing a seamless joined up experience for passengers.
"This is challenging in an environment where a number of different providers are in direct competition with one and other to provide services.
"An obvious early win would be for multi-modal, integrated smart ticketing to be available across the Cardiff Capital Region and for the timetabling of rail and bus services to be complementary rather than disjointed."
'Catalyst'
The entire network - which could be built by 2030 - would involve trains, buses and trams and could cost over £2bn if realised.
It aims to improve access to the capital from the Merthyr, Rhymney, Gwent, Rhondda and Neath valleys.
Graham Morgan, director of the South Wales Chamber of Commerce, said: "We completely agree that the plans for overhauling public transport in south east Wales need to be fully integrated in order to accommodate the projected growth of Cardiff and south east Wales.
"The proposed new transport system must be planned well in advance to ensure that its capabilities are fully realised.
"Our members have said for a number of years that one of the main threats they face to business growth is related to infrastructure.
"An efficient transport network will enable Wales to effectively market itself as a place for inward investment and business relocation, in both UK and international markets.
"It is essential that this issue is adequately addressed if the long-term economic potential for south east Wales, and the whole of Wales, is to be realised."
Transport Minister Edwina Hart said: "The metro is an ambitious long-term project with some radical ideas so we need to look at how we can test out some of those ideas while also delivering improvements on the ground now, this is what this plan aims to do.
"The metro is more than just a transport project it will be the catalyst for transforming the economic and social prospects of the region and Wales."
Other ideas include a rapid bus transit system between Cardiff and Newport and relief rail lines between Cardiff and Severn Tunnel Junction for additional services.
A light rail route between Cardiff Queen Street and Cardiff Bay, with new stops and an interchange at Cardiff Central Station, is also being considered.