Owners of eagle owl found at Ystrad asked to come forward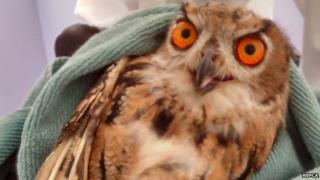 RSPCA officers are appealing for the owners of a tame eagle owl which was found on a road in Rhondda Cynon Taf on Saturday to come forward.
They say the owl, which was being attacked by crows near Danycoed, Ystrad in Pentre, is well but lethargic.
It has a metal ID leg ring, but they have not been able to trace its owner.
Animal collection officer Sarah Davies said: "We don't think the bird has been lost very long as it is not underweight".
Anyone with information is asked to contact the RSPCA.