Sŵn festival cut to one day-event DimSŵn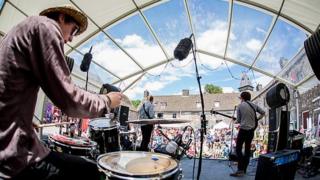 Organisers of the Sŵn music festival have announced it will be downsizing from a four-day event to just one.
The festival has run for seven years in Cardiff and last year won the NME Best Small Festival award.
However, backers say the growth of the festival and loss of one organiser's time means the event has to be curtailed.
A one-day event, DimSŵn, will now happen on 18 October, with a view to returning to the full event next year.
Radio 1 DJ and Sŵn co-founder Huw Stephens said rather than take a year off and let people think the festival had ended, they decided to organise the one-day event instead.
The number of bands will drop from the usual 150 to around half that number spread across seven venues, with 500 tickets available.
An announcement on when the Welsh Music Prize will happen, which is usually awarded during the festival, will be made at a further date.