50 new jobs in Cardiff as British Council wins EU contract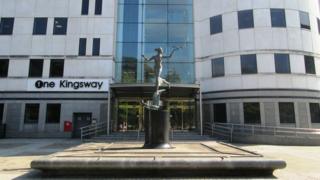 More than 50 jobs are to be created at British Council Wales in Cardiff to run a European Union training and volunteering scheme for young people.
The UK arm of Erasmus+ will have a budget of £800m to be spent by 2020.
It will offer opportunities to more than 30,000 young Britons a year, a 50% increase on the projects it replaces.
Jenny Scott, director of British Council Wales, said: "It's a real vote of confidence in Cardiff to have the city chosen as our Erasmus+ hub."
The British Council won the contract to manage Erasmus+ in the UK - in conjunction with private sector partner Ecorys UK - from the UK government.
Erasmus+ offers funding to UK organisations involved in education, training, youth and sport to work with partners across Europe and beyond to create opportunities for young people to study, train or volunteer abroad.
The new jobs at British Council Wales include roles in grant delivery and management, customer service, finance, events and marketing.