Victory locomotive moves home for restoration work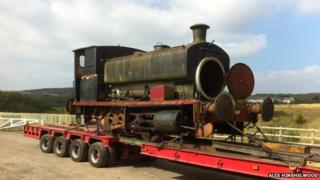 A steam engine named Victory to mark the end of World War Two has been moved to a new heritage railway home.
The locomotive was built in Scotland in 1945 but spent its working life at a steelworks in Newport, south Wales.
It has arrived at Pontypool and Blaenavon Railway where it will take up to five years to restore it.
"It arrived yesterday and it will take quite of a lot of volunteer hours to restore it, " said Alex Hinshelwood, railway traffic manager.
'Million pieces'
Victory was built by Andrew Barclay and Co, of Kilmarnock and worked all its life at the Stewarts and Lloyds tube works in Newport.
Mr Hinshelwood said its current state was "pretty bad," adding: "We are going to take it apart, into a million pieces, and then put it all back again."
Victory has been donated by the National Museum of Wales and for the past 20 years it has been kept at Gwili Steam Railway in Carmarthen.
Meanwhile, the engine Rosyth No1 will mark its 100th birthday on Saturday.
It worked in Pembroke Dock and at RAF St Athan and is back on the rails following a two-year restoration by the Pontypool and Blaenavon's volunteers.
It will be one of two passengers trains and a freight engine "in steam" during the three-day event on the two-and-a-half mile heritage line which includes a stop for the Big Pit museum.
Mr Hinshelwood said passenger numbers were up 30% in the last year, which he called "remarkable".