Flats plan for historic Kings Hotel in Newport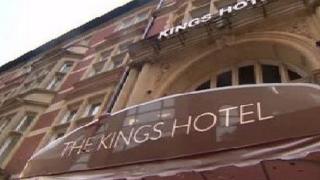 An historic hotel in Newport city centre has been sold more than two years after it closed its doors.
Developer Shire Hall hopes to turn the five-storey Kings Hotel into apartments, along with office and business space on the ground floor.
The 61-bedroom hotel closed in January 2012 blaming a downturn in trade.
The Edwardian building is on the site of an earlier inn, which dated back 250 years.
The music-loving former owner of the Kings had also hosted concerts by the likes of Van Morrison, Jerry Lee Lewis and Robert Plant in its ballroom.
The closure was blamed on the economic downturn and 20 people lost their jobs.
Gareth Carter of property agents Savills Cardiff said: "The redevelopment of this property comes at a time of significant change in the centre of Newport, and will in many ways be a symbol of the city's regeneration."
The conversion into 13 two-bedroom, 14 one-bedroom and three studio flats is subject to planning permission.