Riverside flats development in Cardiff 'unaffordable'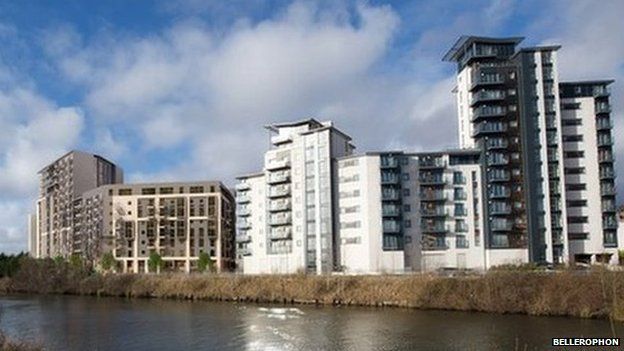 A housing development that would see 2,070 homes built along the River Taff in Cardiff is "unaffordable", council financers say.
The Dumballs Road Regeneration Scheme includes plans for a new primary school and community facilities in Butetown.
Part of it was to be funded by a lease agreement with Cardiff council but that is not a viable option, a report says.
The council said it would consider alternative options to take the project forward.
A report by the authority's director of economic development, Neil Hanratty, says the project by developer Bellerophon would be "ground breaking" for Cardiff.
He said the scheme, which would include a footbridge and cycle and pedestrian paths, would be one of the most innovative in the UK, and would play an important role in regenerating the area between Cardiff bay and the city centre.
Last year the council agreed in principle to enter into a long-term lease arrangement for the affordable housing aspect of the development.
But Mr Hanratty's report says that given the scale of borrowing needed to finance it, it was not affordable to the council.
He adds a detailed business case will need to be developed to come up with other ways of taking the scheme forward.
A Cardiff council spokesman said: "The detailed financial appraisal of the proposal for the council to enter into a lease to enable the scheme concluded that the approach was not affordable to the council at this time.
"Of course the council recognises that the Dumballs Road Regeneration Scheme is an important development for Cardiff and therefore the cabinet will be asked to give the green light to further work to consider potential alternative options for the council's ongoing involvement moving forward."
The scheme is due to be discussed by cabinet members on Thursday.
A spokesman for Bellerophon said it would not comment before the meeting.