Jailed Mathew Davies' family's appeal to free him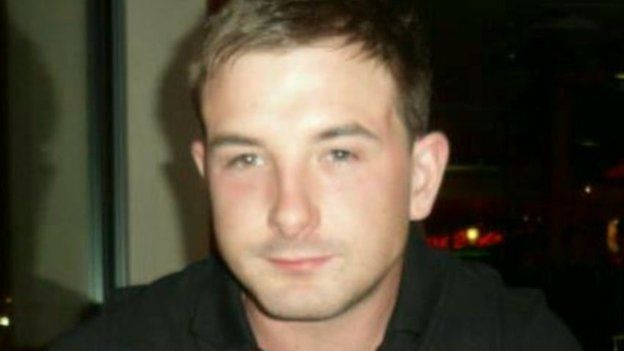 The family of a man being detained in a notorious Indonesian jail has appealed for help to free him.
Mathew Davies, 25, from Blackwood, Caerphilly county, travelled to the country last year to take up a job with a computer firm.
That job fell through but he stayed on to run a restaurant, his family said.
Last month, Mr Davies was arrested by police over alleged immigration irregularities and his family said he is now being held without charge.
His mother, Yvonne, has said her son has little food and no clean water at Cipinang Penitentiary Institution in Jakarta.
"They've just locked him up, they're holding him there and just trying to claim money off him all the time," she alleged.
"I just want him home, I just need to see him."
The family has been told by friends in Indonesia they may need as much as £10,000 to help release him.
"Matty is a really nice boy," said friend Ian Smith.
"He's a really nice gentleman of the community and we're all devastated."
Karishma Vaswani, BBC's Indonesia correspondent, said: "(The prison) is notorious for having amongst it corrupt politicians and was most recently in the news for housing a crystal meth factory, which was run by prison inmates as well as prison guards."
Former Foreign Office minister Kim Howells said the family's options were limited.
"The family needs to liaise very closely with the foreign office to find out what conditions are on the ground.
"They need to know just how much a lawyer costs, they need to know what his chances are of fighting his case in a particular way or whether or not they can make some sort of ex gratia payment to the Indonesian government for him to be released and come home.
"It's all very mysterious very often and it all depends, really, on local custom and practice."