Blaina fire station closure agreed in vote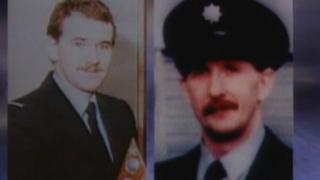 A south Wales fire station is to close despite a campaign to safeguard its future.
South Wales Fire and Rescue authority voted to close Blaina fire station as part of a service review.
The group made of councillors from local authorities in the area voted by 16 to three to close the station.
The ballot was held in secret after threats had been made against one of its members.
The fire service said the review which prompted the station's closure was the first since re-organisation since 1996, with the area's fire safety having improved dramatically in that time.
The authority denied the move was solely to save money, but its member for finance admitted that where money could be saved, members should be obligated to do so.
Campaigners against the station's closure include the families of Stephen Griffin and Kevin Lane, who died while working as retained firemen for the station in February 1996.
The fire station still hosts memorials to the men and there have been fears the station would ultimately be demolished.
'Mindful'
The report to the authority meeting on Monday acknowledges the station is important to local people as it houses a memorial following the deaths of part-time firefighters.
It said it is "very mindful that dependent upon members' decision, liaison may need to take place with the families and station crew on how the memorial is to either be relocated or replaced".
Chief fire officer Huw Jakeway said it had been a challenging and emotional decision for everyone involved as he thanked crews for their "passionate and valiant attempt" to save their station.
He added that at no time did the families of the firefighters from the station who died "make it personal".
A motion to remove a fire engine from Cwmbran station as also passed at the meeting at the fire service headquarters in Llantrisant.
The closure of Blaina station could mean 15 retained fire fighters losing their jobs in Blaina, while 17 jobs in Cwmbran are also at risk.
Last month, Margaret Griffin, 60, the widow of Stephen, told BBC Wales: "Our main concern is keeping the station open for the community of Blaina."
Blaenau Gwent AM Alun Davies said: "This decision is absolutely devastating, not only to the people of Blaina but to the whole borough.
"Thousands of people signed a petition and took part in the consultation is air their concerns, genuine fears for the safety of their communities if Blaina was to close."