Cardiff-born poet Dannie Abse dies aged 91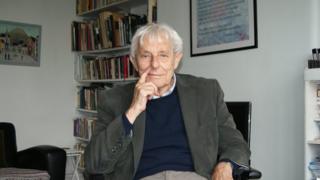 The Welsh poet and author Dannie Abse has died aged 91, his literary agent has confirmed.
During an award-winning career as a writer he published poems, novels and autobiographies, while also practising as a doctor.
Mr Abse was born in Cardiff in the 1920s and was the brother of Labour MP Leo Abse, and psychoanalyst Wilfred Abse.
He died surrounded by his family after a short illness.
"We've lost a truly great poet," said his agent, Robert Kirby.
His publishers, Hutchinson, used social media to respond, writing: "We're so saddened by the death the wonderful Dannie Abse. His poems will live on."
During his early working life Mr Abse opted for a career in medicine, and split his family life between south Wales and London where he worked as a chest physician.
But his reputation as a poet and playwright soon grew with published works of fiction, autobiographies and poetry.
He was regarded as one of Wales' finest modern writers and was a popular choice in homes and schools.
Despite spending most of his life living away, he kept south Wales close with a home in Ogmore-by-Sea and his life here influenced many of his works.
Much of that life was spent with his wife Joan, who died in a car accident in 2005.
He struggled to come to terms with her death, but eventually wrote about his grief in the book The Presence, which went on to win him the Wales Book of the Year award in 2008.
He was president of the Welsh Academy of Letters and was awarded a CBE from the Queen for services to poetry and literature in 2012.
Dannie Abse
Abse was born on 22 September 1923 in Cardiff
His father ran a cinema
He studied medicine at Westminster College and at King's College, London, qualifying in 1950
Abse's brother Leo, a lawyer, was MP for Pontypool and then Torfaen from 1958-1987 and died in 2008
His brother Wilfred, a psychoanalyst, died in 2005
Abse was senior fellow of the humanities at Princeton University between 1973-74
His 2002 novel, The Strange Case of Dr Simmonds & Dr Glas, was long-listed for the Booker Prize
He had been a Cardiff City FC fan since his first visit to Ninian Park in 1934