Racer Kara Rann dies after motorbike crash at Pembrey track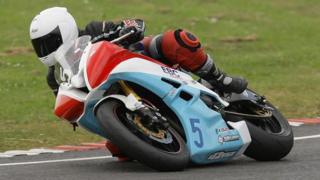 A racer injured after crashing her powerful motorbike at a circuit in west Wales has died.
Kara Rann, 27, suffered serious head injuries after falling from her Yamaha R6 motorcycle during a competition.
She lost control on a hairpin bend and was thrown from her bike which has a top speed of 180mph.
Doctors tried to save her but Ms Rann died of serious head injuries at the University Hospital of Wales in Cardiff.
Her boyfriend Marc McCullough, 25, said: "Kara was so badly injured that she lost her fight."
Mr McCullough was cheering Miss Rann on when she crashed at Pembrey Racing Circuit in Carmarthenshire.
The couple, who have a five-year-old son, were at the NG Road Racing event on the 1.4 mile long track when the crash happened.
She was airlifted to the University Hospital following the accident on 14 September.
Mr McCullough, who is also a motorbiker, kept a vigil at her bedside as she was placed in a medically induced coma.
A spokesman for Pembrey Racing Circuit said: "In race number two there was an incident involving a 27-year-old female competitor, who fell from her Yamaha R6 motorcycle at Hatchets Hairpin.
"The rider suffered serious head injuries and was treated at the circuit by the circuit's medical team.
"The competitor was then airlifted by Wales Air Ambulance to the University Hospital of Wales, Cardiff at 10.55am."
Public protection officers have visited the circuit and are investigating the accident and an inquest will be held.
Ms Rann had been riding motorbikes since the age of 14 but only took up racing a year ago.
She had been campaigning for a TT-style race around the Isle of Wight where she lived - and her friends are planning to organise the event, naming it in her memory.
NG Road Racing has 600 competing members who take part in the Championship Series at circuits around the country.