£21m cost of 'doing nothing' on Cardiff recycling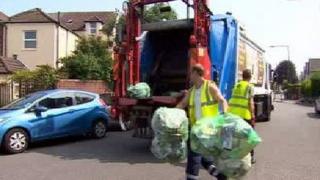 Failing to meet its recycling target could cost Cardiff council more than £800,000 in fines.
The city has been improving the amount of waste it recycles but the amount slipped back to 50% in the last year.
If the problem is not tackled the fines could total £21m within six years.
Cabinet member for the environment, Bob Derbyshire, said: "We are keenly aware of Welsh government targets and the potential for being penalised if we fall short."
All councils face recycling increasing amounts of waste with penalties for those who fail.
It is part of a push for less waste to be dumped in landfill sites.
In three years, the council increased its recycling rate from 39% to 52% but the target is set to steadily rise to 70% by 2025.
The council currently recycles more than 85,000 tonnes of rubbish a year, but it has to find ways of recycling an extra 32,000 tonnes in future.
"The 'do nothing' option is not an option for Cardiff," warns Marie Rosenthal, county clerk and council monitoring officer, in her report to the council's environment committee on Tuesday.
"If no further changes are made to the council recycling services delivery, the fines between now and 2020 could equate to over £21m."
Waste managers say nearly half of what ends up in black bags or bins in Cardiff could "be easily recycled".
Mr Derbyshire said the council is looking at different ways to improve recycling rates, including consultations with residents about the best ways to get more people involved and restricting the amount of non-recyclable waste people can throw away.
It is believed the only way to get residents to recycle more is to cut the frequency of general waste collections - it is currently every fortnight - or limit the number of bags or size of bin.
The council might have to consider bringing in unpopular kerbside sorting recycling - where residents separate the different types of material - which a survey found fewer than 4% of people were in favour of.
Tougher EU regulations are also coming in in this area.
Councillors will discuss the outline waste strategy for the next three years on Tuesday.