Darrell Simester 'seemed content' when found at farm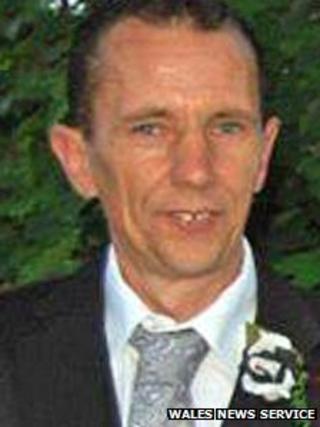 A vulnerable man allegedly forced to work for 13 years at a farm seemed "content" after he was found there, a police officer has told a court.
Darrell Simester, 44, was last seen by his family in 2000 and was found in an "appalling" state at Cariad Farm near Newport last year.
His former bosses Daniel Doran, 67, and David Daniel Doran, 42, deny forcing him to carry out compulsory labour and are on trial at Cardiff Crown Court.
Mr Simester says he was looked after.
He was found at the farm after an appeal by his family in a newspaper, which prompted an anonymous tip-off from a reader.
Det Con Matthew Lea said that when he went to the farm after the discovery, he found Mr Simester, from Kidderminster in Worcestershire, to be "content".
'Filthy'
However he was horrified by the poor state of Mr Simester's living conditions.
"I took Darrell to one side... as I thought he may speak more freely," he told the court.
"The caravan where he lived was filthy. But he (Darrell) he couldn't see the state of it... it wasn't registering at how bad it was.
"Did I ask him how he could live here? Yes. He replied 'no it's fine'.
"I said Darrell, 'something isn't right... are you being forced to live here?'
He replied 'no... they just look after me'."
Det Con Lea said Mr Simester told him he had never been stopped from leaving the farm and while he was "emotional" about being reunited with his parents and brother Duncan, he still "appeared content".
The detective also told the court he had spoken to the youngest defendant - known as "Young Dan" - about Mr Simester's unkempt appearance.
"He (Young Dan) said 'Darrell won't wash and we've tried to get him to have a shower but he wouldn't have one'."
Det Con Lea said Young Dan had told him that Mr Simester had been paid while working there and "owned some of the horses".
'Strange situation'
After being told Mr Simester would be leaving the farm, Young Dan told Det Con Lea he would "arrange to get the horses" to Kidderminster.
Det Con Lea added: "It was quite a strange situation, everyone was talking freely... the family were chatting freely with the farm owners."
The jury has previously heard Mr Simester is a "vulnerable" man who is "timid and easily led".
He last saw his parents Jean and Tony in 2000 before going on a weekend holiday in south Wales.
He later re-emerged in an "appalling" state at Cariad Farm, with his mother later describing her eldest child as looking like a 90-year-old man.
It is the prosecution's case that Mr Simester worked 15 hour days at the farm without pay, that he slept in a rat-infested shed for 10 years and washed himself in an animal trough.
He was also found to have a hernia the size of a grapefruit protruding from his groin and a large growth on his back.
The Sun interview
However, the defence argues Mr Simester's poor personal hygiene was not the Dorans' fault - and he had been free to leave the farm at any time.
Defending QCs Kevin Malloy and Nick Barraclough have also highlighted that Mr Simester was paid £4,000 for an exclusive interview with The Sun newspaper last April.
The jury has also heard Mr Simester's "gambling problem" had caused problems with his family in the past.
The trial continues.