3,000 people at Urdd procession in Caerphilly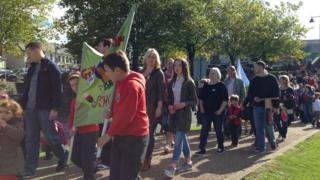 About 3,000 people have taken part in celebrations in Caerphilly to mark the return of the Urdd National Eisteddfod to the county in 2015.
It will be the first time the youth festival, which attracts some 100,000 visitors each year, has been held in the area since 1955.
A carnival procession took place to Caerphilly Castle as part of the proclamation ceremony.
Local committees have a target to raise around £200,000 for each eisteddfod.
Helen Greenwood, Urdd development officer for Gwent, said: "It's been quite a challenge to raise the money - we have to raise awareness - but things are starting to change.
"We have been working very hard this term to support the second language Welsh schools - many of them have never done anything with the Urdd before, but now they're starting to show an interest.
"As soon as people started to understand, for example what was happening on Saturday, the response has been great."