Cardiff council looks at Vale of Glamorgan merger option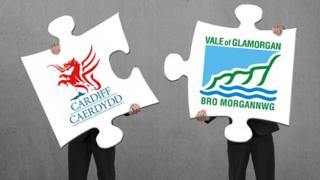 Cardiff council leaders are to decide whether to pursue a voluntary merger with neighbours Vale of Glamorgan.
Ministers want Welsh council numbers to drop from 22 to 10 or 12 and say it will happen "voluntary or not".
A combined Cardiff-Vale authority would be responsible for a population larger than Bristol or Liverpool councils.
Cardiff's cabinet will be asked to seek assurances the city will not be penalised if its neighbour continues to reject overtures for an early merger.
New Minister for Public Services Leighton Andrews has the task of bringing about the first merged councils by April 2018.
He has promised a wind of "fundamental and lasting change" blowing through local government which has prompted authorities to start their own discussions.
There has been been growing collaboration between the two councils but Cardiff council chiefs admit a merger would be an "all together different proposition".
Vale of Glamorgan council has twice rejected the idea, fearing being swallowed up by Wales' biggest council.
It believes the authority can continue in its own right and is looking more towards another neighbour, the smaller Bridgend, if it has to merge.
It fears there would be a "real risk" the merger with Cardiff could leave a council remote and too large.
If the two councils agree, the merger would be two years ahead of any enforced one and the new authority could be offered incentives, as well as starting to save from combining services.
Both are already facing huge gaps in their budgets - up to £124m in Cardiff and up to £32m in the Vale by 2017/18.
Cardiff council leader Phil Bale said he was committed to achieving the "best possible solution".
Cardiff chief executive Paul Orders, in his report, says Cardiff and the Vale of Glamorgan "have the opportunity to more effectively link together planning, transportation, economic development and environmental considerations".
A merger would bring together Cardiff's population of 351,700 with the 127,200 living in the Vale and be in the same league as cities like Edinburgh.
The cabinet on Thursday will be asked to recommend "progressing discussions" about expressing interest in a voluntary merger with the Vale.
It will also be asked about exploring with ministers the development of an alternative proposal "based on exceptional circumstances".
The full council will discuss the issue on the eve of the deadline for expressions of interest at the end of November.