Tredegar family committed £90,000 benefit fraud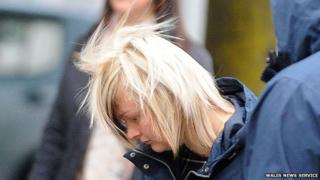 Four members of one family have been sentenced for roles in a £90,000 benefit fraud at Cardiff Crown Court.
Alison, Jason, Gemma and Stewart Parfitt, along with Wayne Rees, swindled income support cash, housing and council tax benefits.
The Parfitts claimed they were all living alone - when in fact they all shared homes with partners.
Their lies unravelled when fraud investigators raided their houses in Blaenau Gwent after a tip-off.
Alison and Jason Parfitt had claimed their marriage was on the rocks, and they were living separate lives in Tredegar.
Their two children, Gemma and Stewart, claimed they too were on their own.
But investigators found birthday cards and joint bank statements to show the Parfitts were all co-habitating at three homes across Tredegar.
Family Facebook pages also confirmed that both the parents and children were living their lives as couples, and not in single households as they claimed.
Alison Parfitt, 48, was jailed for eight months after admitting seven charges of fraud by dishonestly claiming £26,000 in income support, housing benefit and council tax benefits.
She also admitted fraudulently receiving a further £26,000 by supporting her daughter's claims for benefits.
Her husband Jason Parfitt, 47, pleaded guilty to three charges of benefit fraud, including supporting his son's benefits claims, and was jailed for seven months.
The court heard on Monday that the parents were appointees for their children's benefits, meaning the money was paid into their bank accounts then handed out.
Their son Stewart Parfitt, 29, pleaded guilty to one offence relating to more than £28,000 and was given a four-month suspended jail sentence.
Daughter Gemma Parfitt, 27, was jailed for seven months after admitting six charges of fraud amounting to £38,000.
Her partner Rees, 26, admitted one charge of fraud and was given a community order.
Judge Jonathan Furness said he was horrified that Jason and Alison Parfitt even denied the existence of their own grandchildren in a bid to carry on claiming benefits.
A spokeswoman for the DWP said after the case that the Parfitts falsely claimed a total of £90,700 in public money.