James Nutley's family hope a decade since he vanished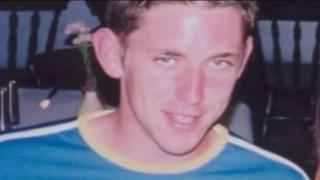 The mother of a man who has been missing for a decade says she has not given up hope of seeing him again.
James Nutley, from Caldicot, Monmouthshire, vanished while on a golf trip to Tenby on 24 October, 2004.
Every year on the anniversary of his disappearance, his family and friends make the trip to the seaside town.
His mother Catherine said: "There's a bit of you that hopes he's out there, you hope may turn up one day alive. Things happen, you've got to believe."
Mrs Nutley, her husband Jeff and several family members will walk through the town with four members of the group who travelled with James on the original trip.
They will meet the family after playing a round of golf in their friend's honour.
Family also visit the town every year on James's birthday - 16 August - and 2014 marked the avid golfer's 35th birthday.
After arriving in Tenby on 24 October, 2004 the group went out for drinks before James left to make his way back to the Giltar Hotel where he was staying.
He was captured on CCTV near to the hotel, a distance you could make with a shot using a nine iron, his mother said.
Police searches proved fruitless but James's driving licence, National Insurance card and golf membership card were all found on South Beach.
"It was a life-changing event. You just don't know [what happened] we'd like an end; as the police say, closure," said Mrs Nutley.
"We just don't know what we'd do until it happens, we talk about it every day - there's always that bit of hope."