90-year-old Santa letter found up school chimney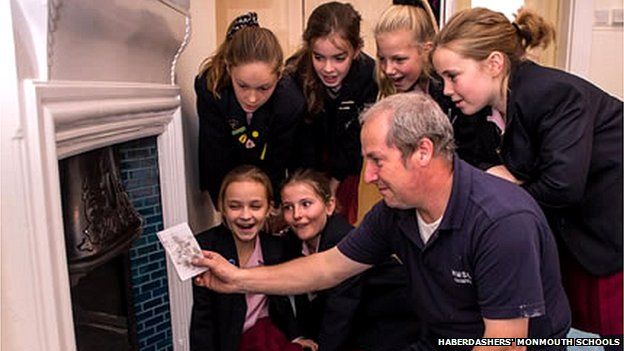 A dress and a book might be a just a couple of items on a modern child's Christmas list, but it formed the total hopes of a schoolgirl from the 1920s.
A letter to Santa written by the girl, a pupil at Haberdashers Monmouth Girls' School, was found up the chimney in a bedroom there as it was being cleaned.
The letter, signed by Haly H, asks for an evening dress and a book called Tell England, first published in 1922.
The school has had the letter restored and plans to display it with the book.
The long-hidden letter came to light when raven chicks fell into a chimney in one of the boarding houses at the private school in Monmouth and maintenance worker Andy Beddoes came in to clear it.
While reaching into the chimney, he felt the letter on an internal ledge. When he retrieved it he could see "Dear Father Christmas" and the part asking for the dress, but nothing else.
He said: "It's a lot cleaner now but you still can't find a date on it.
"I was just surprised really that it hadn't been destroyed. I found it tucked up on the top ledge. It's quite a lucky find."
After the restoration, most of the words could be discerned.
It said: "Dear Father Christmas, are you coming to see me again in two weeks' time I suppose?
"Tell Mummy I want a book, Tell England, and an evening dress.
The note was addressed to "Daddy Xmas".
Deputy head teacher Tom Arrand told BBC Wales: "When we actually got the letter cleaned up a bit, we realised that this was quite old.
"The requests on the letter were for an evening dress and a book called Tell England, which was published in 1922, so we're working on the assumption that the letter was written at some point after 1922 but not long after that."
He said they had guessed Haly was probably about 10 or 11 because that boarding house had always been used for girls of that age.
"It's brought a bit of life out the girls in the boarding house, many of whom are saying they want to investigate other chimneys," Mr Arrand said.
"What's quite good is they're comparing the requests in that letter with what they're asking for which obviously normally are quite lavish Christmas gifts.
"It's made them reflect - we don't know anything about this person but assuming she was from a similar type of family to the families we get attending now - even then she didn't have great expectations apart from getting a dress for Christmas."
Related Internet Links
The BBC is not responsible for the content of external sites.