WW1: Torfaen's only female casualty is commemorated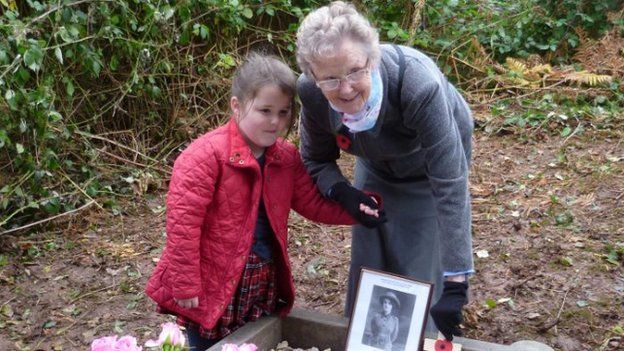 A service has been held for World War One casualty Lucy Jane Saint, a waitress in the Queen Mary's Army Auxiliary Corps.
She was the only woman from Torfaen to die in the Great War.
Her 88-year-old niece, Megan Avery, said it was an "emotional day" at St Michael's Church in Pontypool.
Ms Avery and six-year-old Jaea Watkins laid a cross on the grave at the service to mark 96 years since her death.
Lucy Saint, Megan Avery and Jaea Watkins all went to George Street Primary School in Pontypool.
Prayers were be led by the Reverend Nicholas Taylor, followed by traditional procession and a trumpet call to mark the end of the service at 11.00 GMT on Monday morning.
Ms Avery said it was important for her to be there as "the last of the family" to pay her respects to the aunt she never met.
"It was quite emotional... I admire her for being a woman in 1917 who had the courage to join up."
Aged 23, Lucy joined the army as an assistant waitress and was posted to Christchurch, Dorset, attached to the 5th Reserve Battalion of Royal Engineers.
She died at a hospital in nearby Boscombe a month before the end of the war.
Related Internet Links
The BBC is not responsible for the content of external sites.