Work starts on Cardiff University brain imaging centre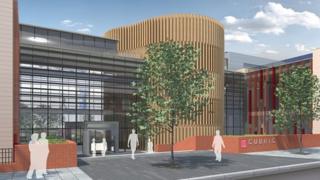 Work to build a £44m brain imaging centre to help experts better understand the causes of conditions like dementia and multiple sclerosis has begun in Cardiff.
Researchers at the Cardiff University site will use mapping techniques to get a more detailed look at how the brain works.
It is hoped it will help scientists come up with better treatments.
The centre is expected to open at the end of 2015.
Once completed, the research facility will be four times larger than the university's existing centre and will be unique within Europe.
It will house state-of-the-art imaging and scanning equipment, which will give researchers the ability to study brain chemistry, structure and function in much more detail than before.
Experts hope they will be able to better understand the causes of brain disorders, including Huntington's disease and schizophrenia, and give them clues about how to develop more effective treatments.