Missing Caribbean sailor Sharon Alleyne feared she would die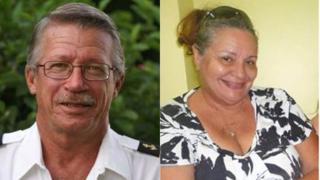 A yachtswoman left adrift in the Caribbean with her husband for four days has told of her fears they would die.
Sharon and Arthur 'Captain Sam' Alleyne went missing last week on what should have been a routine trip from St Lucia to Barbados.
Their daughter Tao Alleyne, from Treherbert, Rhondda Cynon Taf, launched an appeal to help find them.
Eventually they were rescued off St Lucia.
"A little boy came out with his dinghy and said, 'I've been watching you for a while, do you need any help?'" Mrs Alleyne, of Telford, said.
"It took us about half an hour to pull the boat in and tie it up on a buoy and by the time we actually set foot on ground even Tao knew we'd been found."
'Pulled ourselves together'
The drama unfolded on Saturday 25 October when the boat, Serenity, became caught up in a "vortex", Mrs Alleyne said, about 20 miles off Barbados.
The sails were ripped, they ran out of fuel and they were cast adrift.
"The worst moment for us was last Monday," she said.
"This is a busy channel with cruise ships and yachts and we saw nothing, not even seabirds.
"We talked about a lot of things including the possibility we might die. Then we pulled ourselves together and decided what was the next plan.
No food
"Sam saw it as a challenge and decided we weren't going to die on his watch."
Speaking of their daughter's efforts to help rescue them, Mrs Alleyne told BBC Radio Shropshire: "It was very frustrating (not being able to contact anyone).
"We weren't aware of the programme they'd set up and contacts they were making. We were trying to concentrate on what was best for us... we'd run out of food, but had plenty of water."
Mrs Alleyne revealed her husband was planning to sail the same route next week, admitting "there's no way of stopping him".