Libya father Belaid jailed for kidnap of Welsh girl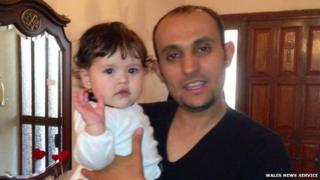 A man who refused to return his child to Wales after kidnapping her and taking her to Libya two years ago has been jailed for six-and-a-half years.
Maher Belaid, 34, showed "unspeakable cruelty" in abducting his three-month-old baby while her mother was shopping, Newport Crown Court heard.
The restaurant worker from Cardiff refuses to comply with a court order to bring 27-month-old Talia home.
The judge apologised for not being able to jail Belaid for longer.
Tormented
Belaid fled to Libya after his marriage broke down, taking his daughter to the capital Tripoli, where she is being cared for by his mother.
Malgorzata Belaid, 30, from Barry, has not seen Talia since she was taken apart from for a few minutes at a time on the internet phone service Skype.
The court heard she was tormented by her daughter calling Belaid's mother "mum".
Belaid had copied his uncle, who had also taken his own daughter to Libya five years ago and had stayed there with her, refusing to let her leave.
Prosecuting, Matthew Cobbe said Belaid had snatched Talia while her mother was shopping in Cardiff city centre and had taken her to Heathrow airport.
"He phoned her in the evening and told her he was in Tunisia and that Talia was safe," he told the court.
"He said he had done nothing wrong, he was teaching her a lesson, and he could take Talia when he wanted and it was no problem for him."
He added: "The defendant's cruelty has deprived the mother of her child and has deprived his child of the love she could have received from her mother.
"The emotional hardship she has endured is plain to see and is heartbreaking."
'Unspeakable cruelty'
Defending, Richard Ace said efforts to bring Talia back to the UK had "hit a brick wall".
Belaid had been arrested after returning to Britain without his daughter. He admitted a charge of abduction.
The court heard there was "no prospect" of Talia being returned to her mother.
Sentencing, Judge Patrick Harrington QC said he was restricted by sentencing powers otherwise he would have given Belaid a "far, far longer" jail term.
He told Balaid: "This is a harrowing case.
"You put into effect a cruel deception and the torment you have inflicted on a very nice girl is simply beyond measure.
"Rarely have I seen a case of such unspeakable cruelty."