Cardiff University helps Ebola fight with comic strip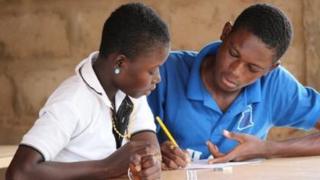 Artistic young people in Ghana are helping to stop the spread of Ebola thanks to an innovative project pioneered by Cardiff University.
Thirty 16-21 year olds in Ghana have designed comic strips that highlight the dangers of the disease and give information on how to prevent it.
The drawing workshops were held in west Africa in August and were the brainchild of Cardiff University.
The comic strips will be presented in a booklet and distributed across Africa.
Dr Lisa El Refaie, an expert in visual storytelling from Cardiff University, designed the comic strip drawing workshops for Ghana.
She said: "Visual language is a formidable tool to convey messages quickly.
"Comics are enjoyed and shared by many young people in Africa, and they are easily produced and distributed."
Cumulative Ebola deaths up to 4 November 2014
The Ebola outbreak in West Africa was first reported in March 2014 and has rapidly become the deadliest occurrence of the disease since its discovery in 1976
The current epidemic sweeping across the region has now killed more than all other known Ebola outbreaks combined
Up to 4 November, 4,960 people had been reported as having died from the disease in five countries: Liberia, Guinea, Sierra Leone, Nigeria and the United States
A further death has been reported in Mali
The total number of reported cases is in excess of 13,000
Source: World Health Organisation
Cardiff University worked with Africaid WhizzKids United (WKU), an international non-governmental organisation based in South Africa.
WKU chief executive Marcus McGilvray, who grew up in south Wales, said: "In a youth friendly way and designed by the young people themselves, the comic strips will help to explain what Ebola is.
"We want to help stop the spread of Ebola by giving people the correct facts and information about the virus - before fear and ignorance can take hold."