Harry Jones, three, helps father after epileptic fit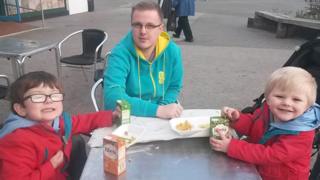 He might only be three years old but Harry Jones has been hailed a potential life-saver after going to the aid of his collapsed father.
Darren Jones, 29, has been suffering aggressive epileptic fits in recent months and had a seizure on the sofa at the family home in Merthyr Tydfil.
Harry pressed a red "lifeline" button to call emergency services and let paramedics in when they arrived.
"He's such a shy little boy, I'm so proud of him," said mother Bethan.
Elder brother five-year-old Ben only three weeks ago started to call 999 after Mr Jones had a similar fit walking upstairs, but his grandmother was in the house at the time and able to help.
Mr Jones and his wife had explained to the boys about epilepsy to make sure they knew what to do and not to be frightened.
"Darren had a couple of fits as a teenager but since May he's been having them regularly," said Mrs Jones, 28.
"It's been life-changing for us all as a family. In August for two weeks he was having them daily and at first it was a bit frightening for the boys, but now they're calm about it when it happens."
They have also been shown a child-friendly DVD and have a picture book My Mom Has Epilepsy - from Epilepsy Action - which tells the story of seven-year-old girl coping with her mother's condition.
Mr Jones had collapsed after returning from work on Monday.
"I was only out for half an hour picking up Ben from school and seeing a teacher so my phone was on silent when the emergency team tried to call me," said Mrs Jones.
"They also called my mother but she lives in Mountain Ash and too far away so they sent an ambulance.
"By the time I got the missed calls and got home there were three paramedics in the house. Harry must have let them in, it was incredible!"