Facebook campaign success for Harold Morgan's funeral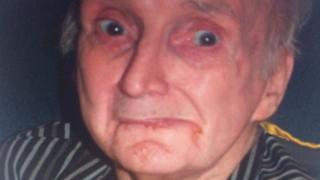 A social media campaign looking for mourners to attend the funeral of a Welsh soldier has resulted in dozens of people pledging to go.
Former Welsh Guardsman Harold Morgan's funeral is being held at St Tathan Church, St Athan, on Thursday.
Rev Rachel Simpson launched a Facebook campaign to appeal for mourners, fearing only care home staff would go, but has since received numerous offers.
She said: "It's been really encouraging and completely unexpected."
Rev Simpson said the funeral directors have taken "lots of phone calls" from people who said they will be going, as well as people on Facebook and local parishioners.
Cardiff's Military Preparation College said 30 teenage military hopefuls will also attend to pay their respects.
The college's senior director, Brian Edwards, said: "This week has all been about remembering those who gave their lives for their country, so we were determined to support the church's appeal and have the opportunity to give thanks for the life and service of Mr Morgan."
Mr Morgan, who served in Egypt, died at the age of 85 after living in a care home in Barry for the last 14 years of his life.
Rev Simpson launched the campaign after receiving the funeral details and noticing there were no next of kin details.
Worried the funeral would only be attended by staff at the home where he lived and solicitors, she took to the internet to see if she could trace family or friends.
"He's 85 years old, there must be people who remember him, he's had this life and you don't want him going on to an empty church with nobody there to remember him," said Rev Simpson.
The reverend said Mr Morgan's solicitors had made contact with his brother in north Wales, who is unable to go due to health problems, and a cousin in Newport, who is planning to attend.
He also has family in South America.
Rodney Hall, secretary of the Welsh Railways Research Circle which was co-founded by Mr Morgan, said his friend was born in Oxford and lived in Carmarthenshire before moving to the Vale of Glamorgan.