Poet Jonathan Edwards shortlisted for national book award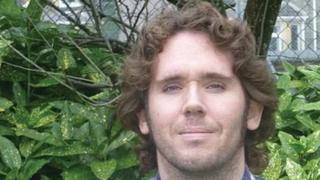 A south Wales teacher and poet is in the running for the Costa Book Awards 2014.
Jonathan Edwards, from Crosskeys, Caerphilly county, has been shortlisted in the poetry category for his book "My Family and Other Superheroes".
The winner of the competition's five categories receives £5,000 with the overall book of the year winner receiving £30,000.
Mr Edwards said: "It's just amazing. There's a glittering array of names."
He added: "I work as a teacher and some of the names on the list are books by people that I teach in school, Michael Morpurgo people like this.
'Valleys family'
"I write a lot about my family, my valleys family, but someone told me early on that if I do that, I would be writing poems that only my family would read.
"So I try to broaden it out. I started throwing in these famous people so I've got all these poems about Ian Rush and Sophia Loren and others."
The awards are the only major UK literary prize open only to writers who live in the UK and Ireland, and previous winners include Zadie Smith, author of White Teeth.
The 2014 winners will be announced on 27 January, 2015.