Cardiff 'not a hotbed of radicalisation'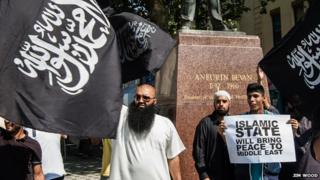 Cardiff is not a hotbed of radicalisation or extremism, a community leader has said.
Abdul Azim Ahmed, from the Muslim Council of Wales, said work was under way to identify "pockets of problems".
He said radicalisation happens on the streets away from mainstream Muslim institutions making it hard to address.
Mr Ahmed's comments come after pictures obtained by The Wales Report show a man holding an Islamic State poster in Cardiff city centre in July.
Cardiff South and Penarth MP Stephen Doughty called for action over radicalisation which he described as "very twisted".
Mr Ahmed, assistant secretary general of the Muslim Council of Wales, likened the problem to having groups of gangs, saying they were hard to target because they existed in "the corners, in the niches" of society.
He said it was concerning that two young men from Cardiff have gone to fight for Islamic State (IS) in Syria.
"It is something which has raised our attention to see about where there may be pockets of problems, and working as best as possible with the police and government to try to address that," he told BBC Radio Wales.
He said the issue was not necessarily about funding but finding the best ways to "make a difference" with working with young people to prevent them from "falling victim to extremist narratives".
He added that there was no a quick fix or easy solution and needs partnerships between statutory bodies and faith groups to address.
Meanwhile, former Welsh Secretary Peter Hain, MP for Neath, told students from the University of South Wales the West could not defeat IS.
"Unless the US and Europe are prepared to embrace Arab ownership of the region's conflicts and to put the onus on Arab states to find a solution, there is no prospect of establishing peace and stability in the Middle East," he said.