Cardiff leader calls for 'city deal' to boost transport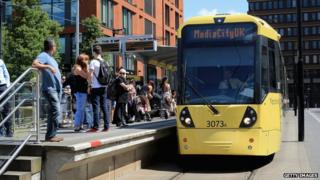 A "city deal" to boost transport investment in south Wales should be agreed by the UK government, the leader of Cardiff council has said.
Phil Bale was one of ten council leaders who met London Mayor Boris Johnson and Commons leader William Hague to discuss ways of devolving power to the UK's major cities.
"Cardiff must be treated the same as the other big cities," said Mr Bale.
He added that investment in Cardiff would benefit the wider Welsh economy.
Mr Bale was part of a delegation from Core Cities UK, a group representing eight of England's largest regional cities plus Glasgow and Cardiff, which met Mr Johnson and Mr Hague in London on Thursday.
New powers
He told BBC Wales it was "really important" that Cardiff was not "disadvantaged in the devolution debate".
"Cardiff must be treated the same as other big cities," he said.
"If other big cities get offered significant powers and access to investment, we need that as well - not just for the sake of Cardiff's economy but for that of the wider Welsh economy".
He said a key aim for the Welsh capital was to get what he described as a "City Deal' to boost transport links with the rest of south Wales.
"We'd like something similar to the deal which the UK government offered to Glasgow - £500m for infrastructure from the UK government and the Scottish government matched funded that to provide a pot of £1bn.
"The important thing is that a 'City Deal' is struck between the UK government and cities, not devolved administrations," he added.
Mr Bale said that Cardiff's economy had a significant positive impact on the whole of Wales.
"I'm doing my best to make sure that Cardiff and Wales doesn't suffer and get left behind," he said.
Cardiff council is considering £32m worth of cuts in 2015/16 to help plug a £48m budget shortfall.
The authority has also held talks with the mayor of Bristol George Ferguson to explore ways the cities can work together on projects such as renewable energy and transport.