Caerphilly chocolate maker Oncocoa to supply Tesco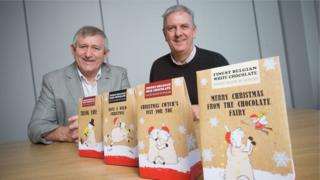 Caerphilly chocolate maker Oncocoa has won a contract worth around £290,000 a year to supply Tesco stores in Wales.
The company launched in May this year and is doubling its four-strong workforce to supply all 55 of Tesco's main stores.
Oncocoa make bespoke chocolates and past creations include a range for the National Museum of Wales.
Wales' Economy Minister Edwina Hart said: "This is quite a considerable achievement for a small start-up."
Mike Mills, creative director of Oncocoa, said: "It's been a whirlwind really, they (Tesco) have given us pretty much a free reign because they like what we do so much."
Oncocoa was formed when two Caerphilly businesses - one specialising in packaging and the other in chocolate making - joined forces.