M4 relief road: Date set for legal challenge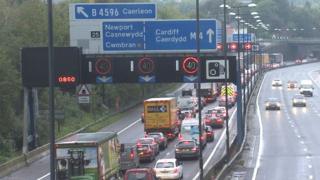 A legal challenge to plans for a £1bn M4 relief road around Newport will be heard in court next spring, an environmental group has said.
Lawyers acting for Friends of the Earth Cymru said a judicial review had been listed to be heard in Cardiff in March.
The group claims the Welsh government has failed to consider the potential damage to protected habitats in the Gwent Levels.
The Welsh government is not commenting on the announcement.
'Costly plan'
The road is intended to relieve congestion on the M4 around Newport.
Friends of the Earth Cymru have claimed that the preferred "black route" between junctions 23 and 29 would have a harmful impact.
Its director Gareth Clubb said the Welsh government had a duty to protect such sites and consider alternatives to their "destruction".
"The people of Wales deserve a sensible and well-informed debate on such an important and costly plan, in which less environmentally damaging alternatives should be properly considered," he said.