Murder arrests in Pyle and Porthcawl after man's death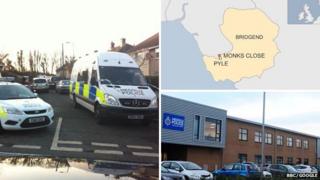 Police are investigating the suspicious death of a 46-year-old man in Pyle, Bridgend county.
A 41-year-old woman from Pyle and a 52-year-old man from Porthcawl have been arrested on suspicion of murder, South Wales Police said.
The death at Monks Close was reported to the force shortly after 06:00 GMT on Sunday.
The two arrested people are being held at Queens Road police station in Bridgend.
Anyone with information is asked to contact police on 101.