Wind closes Sky Swing again at Cardiff Winter Wonderland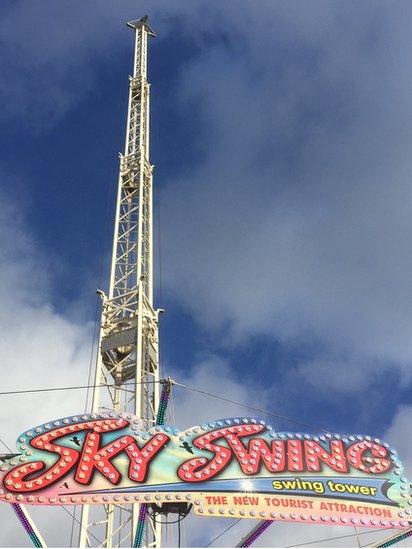 A fairground ride which shut down after its gondolas crashed into each other in mid-air with people on board has been closed again because of strong winds.
On Friday, passengers were left terrified as a gust of wind sent empty carriages swinging at the top of the 60m (198ft) Sky Swing at Cardiff's Winter Wonderland.
Operators Sayers Amusements said there was no fault with the ride and it was operating as normal over the weekend.
But it shut down again on Monday.
Sayers Amusements confirmed it was unlikely to run much throughout the day because wind had been forecast.
It said once wind speeds reach 10 metres per second - 22.37mph - the ride shuts down automatically as a safety precaution.
The company added that it had now taken measures to ensure the mid-air clashes would not happen again when the ride is operating, by adding more weight to any empty gondolas.
Site manager Norman Sayers, 34, said he was happy that the ride was safe.
"This has never happened before and it has not happened since," he told the BBC news website.
"When it happened the ride was stopped, the customers came down, we explained what happened and offered everyone refunds.
"There were no concerns at the time and it's all been fine since."
He said the media and press coverage showing the carriages colliding had not affected business
"Business was good on Saturday and over the weekend, which is our peak time for customers," he added.
"Hopefully business will be good again today. But everything has been fine.
Some visitors to Winter Wonderland on Monday tried the Sky Swing ride before wind shut it down.
Student Nicolas Cowell, 20, said: "I had some concerns but they tested the ride in front of me and it looks fine."
After going on the ride, he said: "It was great. I loved it. Just as scary the second time as the first time (he had been on it before)."
James Owen, 20, another student, said before going on the Sky Swing: "I'm half tempted to go up. I had a look at the video [of the gondola clashes] on Facebook and when you hear the hit you wonder about the people in the carriage - I was concerned."
After giving the ride a go, he said: "Scary. Nice view but never again."
On Saturday, Sayers Amusements said it had investigated what happened on the ride and was happy that the safety system "was working correctly at all times".
The Winter Wonderland is a Cardiff Council event and the authority said it has sought assurances steps have been taken to ensure there is not another incident.
A council spokesperson said: "The site operators have assured us that the incident over the weekend was the result of a freak gust of wind and that all safety systems worked as they should have done."