Car driver killed in school bus crash is named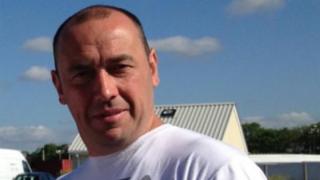 A man who died when his car hit a school bus in Cardiff has been named as Gregory Andrew John Manley.
Mr Manley, 40, from Peterstone, who was known as Andrew, died in the crash on Cypress Drive, St Mellons, on Monday.
The single-decker bus was carrying 40 pupils from St Teilo's Church in Wales secondary school, and six children were taken to hospital.
Mr Manley's family said it had lost "one of its brightest lights."
A statement from the family read: "A kind, generous, loving but sometimes flawed man, Andrew had a big personality and has left a gap in our lives that nothing will ever fill.
"To say that we will miss him dearly is an understatement."
Witnesses of the crash involving Mr Manley's silver Ford Fiesta and an Edwards Coaches bus are asked to contact police on 101.