Risca pizza van gets wedged between flats and wall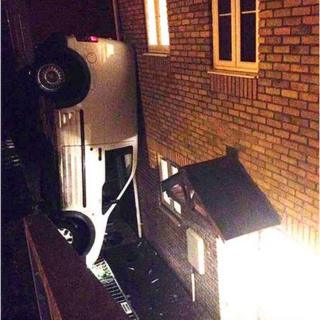 A pizza delivery van rolled down hill before becoming wedged into a gap with its back end sticking up in the air outside a block of flats.
The scene greeted residents at Risca in Caerphilly county on Wednesday evening, according to the South Wales Argus.
Eye witnesses told the newspaper how the driver got out of the van to deliver pizza to a nearby flat.
Then, realising it was slowly rolling, he tried to stop it by jumping into its passenger seat.
The Domino's driver escaped serious injuries in the accident when the van smashed through a fence and plunged down a drop before crashing into flats.
A company spokeswoman said the firm was investigating.